I am so excited to finally be able to offer this compilation to you! This 40-page issue offers a unique, "inside" look at Hidden Wisdom's humble beginning. I've added notes to many of the articles to help you understand why I wrote each story. In this compilation, I have tried to reproduce the appearance of the original issues to a large degree so all the graphics and fonts (with the exception of the cover, editorial, and 2-page section about HW) are those originally used.

I have several goals for putting this compilation together: no, it's not to "show off" my writings -- on the contrary, I don't think these are examples of fine writing at all. :-) (1) I want to share part of HW's history with those of you who have had such a part in its making and (2) I want to inspire you young would-be editors and editresses, and show that there's nothing wrong with starting small. Just do the best you can with the talents and equipment the Lord has given you: He will bless your efforts as you follow His leading!

I pray these humble little articles will be a blessing and inspiration to each of you who get a copy. To God alone be all glory and praise -- great things He hath done!!


Here's an outline of what this issue contains:
(All articles are by me, Abigail, unless otherwise noted)
From Volume 1 (May 1991):
Junk Robbery at the Brown Residence

Unexpected Visitors

Eddie Finds Electric Fish

Great Lamb Race at Laurel

President Bush Wins Baseball Game in Gilman!

Goat Runs Away With Cart!!

From Volume 2 (April 1992):

Employee Catches Rats!

Susanna Wins Limbo in Marshalltown

Grandma Visits Grandson

Zebras

Take Time to Laugh (a collection of jokes)

The Longtrip's Long Trip

Seven Little Pigs

A Report on Hampsters

From Volume 3 (April 1993):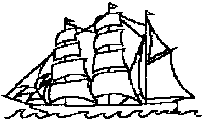 From Volume 4 (April 1994):

They're Heading for Virginia (or are they?)

California Company!

Keep Off the Grass

Sadie Visits the Chicken House!!

Our Vacation

The History of Wallpaper and Wicker

Company Corner!

Lost and Found

Special Reports

From Volume 5 (April 1995):

Shearing Time!

Party!

Bible Quiz! (By Don H., Sr.)

Anthony's Adventure With the Ashbys

If Jesus Came to Your House (poem, author unknown)

Sam and Sally's Situation

Mike, a Moose, and a Prayer (by Granddad Denniston)

Bible Contest

Special Notice (survey)

PLUS, each issue contains:

One page of delicious recipes

Birth announcements (mainly of our pets)

Obituaries (humorous acounts of animal deaths)

Family news


Unique graphics

Click here to see how you can receive a copy of this exciting issue --
we look forward to hearing from you!