Choices and Changes for HW in 2006
By Abigail Paul, January 5, 2006

A lot has been happening around here since we mailed out the last issue. In mid-November, Grandma had a stroke and was hospitalized for 3 weeks before being moved to a nursing home. God has answered many prayers and she has been slowly improving, but is still confused much of the time. Then, the last week of December, Grandpa went to the hospital because he wasn't feeling well...and we found out that he has lung cancer (several tumors in his lungs). Since then he has been taking it easy and praying about treatment options.

Since our grandparents have a house next to us on the farm here, and my siblings and I have grown up doing nearly everything with them, it's been a hard adjustment for all of us. Grandpa and Grandma have always been a big part of our family business, so we've been extra busy keeping up with everything...and we just miss being able to do things with them.

But even through the difficult decisions, tears, and lessons, God has been so faithful. We've seen His hand at work in every detail. Most notable is the way He's opened doors for us to start a music ministry at the nursing home where Grandma is living, and at the same time answered our prayers for more like-minded local fellowship. We're now helping lead the Sunday afternoon worship services at the nursing home, with much assistance and encouragement from a new friend, Mr. Gould. The way God has brought all this about is nothing short of a miracle, and the peace and love He has blessed us with is truly amazing. God is so good and we're very excited at these new opportunities to reach out.

Because of all that has been happening, plus a number of major computer difficulties over the past couple months (3 complete hard drive reformattings!), this issue has been considerably delayed. Thanks for your patience and understanding!

With all the changes and new opportunities that have come up, we've been doing a lot of serious praying about HW's ministry and what direction He would have it take in the new year. His answer has been that we should change publication from bi-monthly (6 iss/year) to quarterly (4 iss/year). It was a hard choice to make, but it's clearly the way God is leading. Lord willing we'll be able to stay on schedule this way, while still keeping up with the additional responsibilities and new ministry opportunities here.

Because of this change, this issue (Volume 69) is the Jan.-March issue, and the deadline for the next issue (April-June) will be February 15. Rest assured that each of you will still receive the number of issues remaining on your subscription (expiration dates will be updated). With postage and other expenses going up and the issues per year decreasing, we'll be making adjustments to the suggested donations for samples/subscriptions.

Any questions regarding these changes are welcome...and we certainly need and appreciate prayers as we continue to seek God's leading for the new year. Thank you for all your help and encouragement throughout 2005!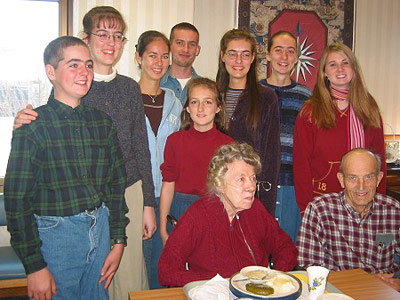 My siblings and I with our grandparents and a couple cousins on Thanksgiving, at the hospital. L-R: Daniel (12), Abigail (25), cousin Amber (16), Joseph (19), Rachel (10), Lydia (16), Susanna (22), cousin Jennifer (18), and Grandma and Grandpa in front.