Living Unselfishly

Lord, I have fallen again -- a human clod!
Selfish I was, and heedless to offend;
Stuck on my rights. Thy own child would not send
Away his shreds of nothing for the whole God!
Wretched, to Thee who savest, now I bend;
Give me the power to let my rag-rights go
In the great wind that from Thy gulf doth blow.

There is nothing like putting the shine on another's face to put the shine on our own. Nine-tenths of all loneliness, sensitiveness, despondency, moroseness, are connected with personal interests. Turn more of these selfish interests into unselfish ones, and by so much we change opportunities for disheartenment into their opposite.

Love your neighbor for God's sake, and God for your own sake, who created all things for your sake, and redeemed you for His mercy's sake. If your love hath any other motive, it is false love; if your motive hath any other end, it is self-love. If you neglect your love to your neight, in vain you profess your love of God; for by your love of God, your love to your neighbor is acquired; and by your love to your neighbor, your love of God is nourished.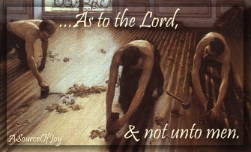 There can be no real and abiding happiness without sacrifice. Our greatest joys do not result from our efforts toward self-gratification, but from a loving and spontaneous service to other lives. Joy comes not to him who seeks it for himself, but to him who seeks it for other people.


Our superfluities should be given up for the convenience of others. Our conveniences should give place to the necessities of others. And even our necessities give way to the extremities of the poor.

He gives nothing but worthless gold
Who gives from a sense of duty;
But he who gives but a slender mite,
And gives to that which is out of sight,
That thread of the all-sustaining Beauty
Which runs through all and doth all unite -
The hand cannot grasp the whole of his alms,
The heart outstretches its eager palms...
Have you ever had your day suddenly turn sunshiny because of a cheerful word? Have you ever wondered If this could have been the same world, because someone had been unexpectedly kind to you? You can make today the same for somebody. It is only a question of a little imagination, a little time and trouble. Think now, "What can I do today to make someone happy?" - old persons, children, servants - even a bone for the dog or sugar for the bird! Why not?

Never be afraid of giving up your best, and God will give you His better. ~Hinton

Superfluous wealth can buy superfluities only. Money is not required to buy one necessary of the soul. ~Thoreau

A hand accustomed to take is far from giving.

Whatever I have given I still possess.