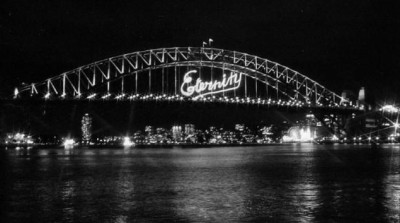 Eternity on the Sydney Harbour Bridge, New Year's Eve, January 1, 2000
Photo by courtesy of Col Kirton and Warren Cardwell -- Eternity Production and Design
Volume 35
I still can hardly believe this issue actually got done on time -- my computer kept acting up, and my file was inaccessible for a couple weeks. I honestly didn't think I'd be getting this issue out until the first week of May! But, praise the Lord, He worked everything out just fine! :-)

The theme for this issue is so vital to each Christian -- I hope you'll send for this issue. I've really learned a lot about the way Satan works and about Spiritual warfare just by putting it together.

Here's an outline of what this issue contains:

Theme: The Armor of God

An expanded statement of HW's purpose and goals -- I added Proverbs 2:1-6, 9-11 for the first time.

The results of HW's 2000 Contest -- thanks to all participants!

Four pages of Epistolography -- encouraging letters from readers.

Wise Counsel answers to "do you have any tips on memorizing Scripture?"

How Can We Best Battle Satan?, by Kurt D.

How to Resist Satan -- an excellent 6-page article by Theodore H. Epp

Spiritual Warfare: The Need and Power of Prayer -- written by Deborah B. and illustrated by Shelley B.

The Armor of God, a poem by Jamie S.

I've Fought the Fight, a poem by Jolea J.

The Story of My Life, Chapter 30 -- read about the very first issue of my publication, "Abigail's Amazing Articles," including excerpts.

The Faith Room, Part 2, Written by Samantha J. and illustrated by Sara F.

Subscriber's Corner -- Meet Jami P. and her family

You Can Make a Natural Wall Plaque, by Mary U.

Unity of Believers -- pattern for quilt square #8

Eternity in the Heart of Sydney -- "What was the story behind the enigmatic word which lingered on the Sydney Harbor Bridge after the New Year's Eve fireworks faded out?" -- an excellent true story by Nigel Chapman, complete with photos (see one above!).

A Time to Cook... Readers' Favorite Recipes! -- introducing the new food editor, Theresa W.!

A Favorite Hymn History ("O Love That Wilt Not Let Me Go"), by Abigail Paul

Daily Bible Readings and Weekly Memory Verses for May and June

And much more in between!!

Click here to see how you can receive a copy of this exciting issue -- we look forward to hearing from you!