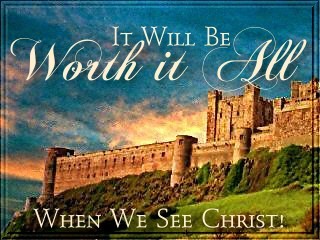 It will be worth it all,
When we see Jesus.
Life's trials will seem
so small,
When we see Christ.
One glimpse of His
dear face,
All sorrows will erase.
So bravely run the race,
Till we see Christ.

~Esther Kerr Rusthoi


Worth It All
What an encouraging poem, or chorus actually -- probably many of you know it. "It will be worth it all, when we see Jesus..." I'd like to share with you my "tough time," and some special verses from God's Word that have encouraged me. If you are going through a trial at this time, or perhaps you know someone that you could share them with, I hope that you will find these verses encouraging.
Last May (2002) I had an emergency appendix surgery. My appendix had already burst, which the doctors believe happened a whole week before, for I had a high fever then. The doctor did not know about the burst appendix until I was in surgery. Praise the Lord that when my appendix did burst, the poison went into a mass, about the size of a cantaloupe -- an infectious area that totally enclosed my appendix, shielding me from its poison. To God be the glory that I'm still alive! Through it all, I have been diagnosed with Crohn's disease. Crohn's is not life threatening (although it can be if I'm not careful) and mainly it is controlled by diet.
I was in the hospital for five days after surgery, so that brought me many visitors. A pastor friend of ours, Pastor George Stiekes, came to see me quite often -- he always left me with a verse to meditate on. I'd like to share the verses that he gave me.
Psalm 18:30 ~ "As for God, His was is perfect: the Word of the Lord is tried: He is a buckler to all those who trust in Him."

Proverbs 3:5-6 ~"Trust in the Lord with all thine heart and lean not unto thine own understanding. In all Thine ways acknowledge Him and He shall direct thy paths."
"His Way is Perfect!"-- what a wonderful promise for those of us who trust in Him!
Romans 8:28 ~ "And we know all things work together for good for them who love God to them who are called according to His purpose."
"All things work out together for good..." -- God never said that life would be easy, but if we love Him, He will work it out for the good.
Pastor Stiekes asked me a question: "What was Daniel doing in the lion's den? He wasn't looking at his problems (the lions), but instead he was looking up to God, praying." His eyes were looking toward heaven not toward earthly troubles& the lions. (Daniel, chapter 6) That is what we need to do...look towards heaven -- pray -- avoid the "lions" of earthly troubles.
Phil. 4:6-7 ~ "Be careful for nothing; but in everything by prayer and supplication with thanksgiving, let your requests be made known unto God. And the peace of God, which passeth all understanding shall keep your hearts and minds through Jesus Christ."
"Be careful for nothing" -- do not be anxious. I'll admit, that's easy to say, harder to do, but there's a wonderful promise -- the peace of God that passes all understanding. I've been there, and it's very wonderful to know that He is in control, and His way is perfect& Look toward heaven -- it will be worth it all!
Another thought that Pastor Stiekes gave me one day, was that sometimes we go through trials on order to be able to comfort others.
I Cor. 1:3-4 ~ "Blessed be God, even the Father of our Lord Jesus, the Father of mercies, and the God of all comfort; who comforteth us in all our tribulation, that we may be able to comfort them which are in any trouble, by the comfort where with we ourselves are comforted by God."
Here are two more verses that are special to me, which I'll include here:
Romans 8:18 ~ "For I reckon that the sufferings of the present time are not worthy to be compared with the glory which shall be revealed in us."

II Cor. 4:17 ~ "For our light affliction which is but for a moment worketh us far more exceeding and eternal weight of glory."

Never be sad or desponding,
If thou hath faith to believe.
Grace, for the duties before thee
Ask of thy God and receive.
Never give up, Never give up,
Never give up to thy sorrows,
Jesus will bid them depart.
Trust in the Lord, Trust in the Lord,
Sing when thy trials are greatest,
Trust in the Lord and take heart!
~Fanny Crosby
During my hospital stay, and recovery, I received many cards. It was such a blessing to know that so many people were praying for me! If you know someone going through a trial, I encourage you to send a card or two, and let the person know you are praying for them. They will be encouraged to know that you are thinking about them.
"Now unto God and our Father be glory for ever and ever, Amen."
~Phillipians 4:20~